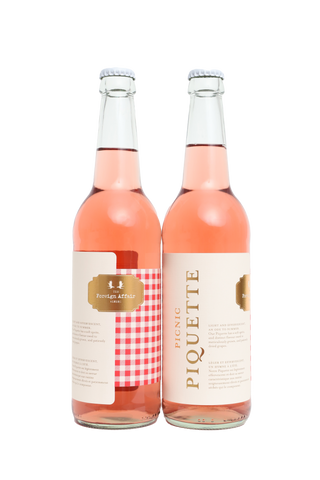 Our winemakers have put a New World spin on an Old World classic. Traditionally crafted for the refreshment of cellar hands and field workers, this Piquette is a wonderful alternative to beer or cider. Aromas of lime zest and pomegranate are generously complemented by floral notes.
Purchase this two (2) bottle bundle of Picnic Piquette to enjoy all summer long.
---
Varietals:
Styles:
2x500mL bottles & 6% alc./vol
---
Winemaking Notes

A blend of Riesling and Sauvignon Blanc, this low-alcohol bubbly number delivers all of the lightness and refreshing fruity goodness required to quench you on a hot summer day. Inviting dried Merlot to the party livens up the colour and hints at fresh strawberries, while tannins extracted by way of skin contact add balancing texture.


Food Pairing

Try this summer sipper with picnic fare, baguette and creamy cheeses or better yet with a dog off the grill.